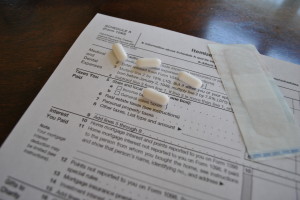 I'm often asked by clients, why they couldn't deduct their (you name it).  Well, unless you're paying a mortgage on your home or contribute generously to charity, odds are you don't have enough eligible expenses to deduct on Schedule A.  Your Schedule A expenses would only be reported if they exceed the 2014 standard deduction amount for your filing status – $6,200 for single and married filing separate returns; $12,400 for married filing joint returns; $9,100 for heads of household returns.
One of the most confusing Schedule A deductions is for medical and dental expenses you paid for yourself, your spouse or your dependent(s).  You can only deduct the expenses that exceed 10% of your adjusted gross income (AGI), or the amount that exceeds 7.5% if you or your spouse were born before 2 January 1949.  For example, if you're 40 and your AGI is $50,000, you must have spent more than $5,000 on eligible medical and dental expenses to claim a deduction.
If you're one of the few who spent a lot of money on medical and dental expenses in 2014 (and have the paper trail to support it), I've listed several eligible expenses you shouldn't forget.
Ambulance services

Birth control pills

Breast pumps and supplies

Chiropractor fees

Dental cleanings / X-rays / Braces / Extractions

Eye exams / Contact lenses / Eye glasses / Laser Surgery

In vitro fertilization

Prescribed medication

Pregnancy test kits

Programs to stop smoking

Vasectomy
Visit the IRS website for the complete list of what you can and can't deduct.