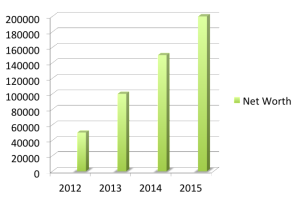 At the end of every year I always take time to calculate our Net Worth.  I love that you can simply estimate all of your account and asset values (including your kids savings accounts), deduct the debts you owe and get the results in about 5-10 minutes.  The goal is to have a positive number once you've done the math.
Of course, if you're like me and want to know the numbers down to the penny, it's also a great time to log on to your financial institutions website(s) to check your balances and update new contact information.  I realized I had completely forgotten to change our address on a few investment accounts I don't check regularly.
Doing this annually allows us to see if we've achieved our financial goals for 2013 and helps us realistically set goals for 2014.  For those of you already invested in the stock market (including your 401(k), IRA, TSP, mutual funds…) you'll probably notice this was a great year for us.  In just one of our investment accounts, our personal rate of return was over 22%!
If your Net Worth is a negative number, it's more important than ever to be honest about your finances and begin to make the changes necessary to win with your money.  After all, aren't you worth it?
I recommend the calculators on Bankrate, CNNMoney and Investopedia to get you started.