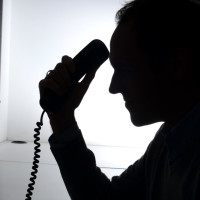 Several years ago, I received a call from "Bank of America" asking me to update my account information. Thinking nothing of it, I entered my social security number, account number and address using the link provided. The next day, $500 was taken out of my account! Luckily, after I immediately contacted the bank, my money was refunded. They advised me to NEVER enter personal information from an email link, and to ALWAYS go directly to their website when entering sensitive information.
In addition to the more commonly know scams – phishing emails, identity theft, pyramid schemes, and letters from Nigeria – there has been an increase in consumer complaints reporting harassing phone calls from thieves claiming to be the IRS or your trusted financial institution. Unfortunately, too many consumers discover they've been scammed too late.  
If you receive a call from a financial institution, the IRS, debt collectors, etc., have them verify the information they have on file about you. Never give them your information, unless you have called them directly. Also, don't give anyone access to your checking or savings accounts to settle "phantom debt".
If you have reason to believe you've been the victim of consumer fraud, take the following action immediately.
File a report with your local law enforcement agency
Check your credit report for free and place an alert and freeze with all three credit reporting agencies here
Notify the Federal Trade Commission (FTC) here
For identity theft that is affecting your tax return, complete IRS Form 14039 
For internet fraud, file a report with the IC3 (a reporting agency co-sponsored by the FBI and NW3C) here
Spread the word to your family and friends via phone and social media so they too won't fall victim
 By: Nimal Griffin – 2014 FINRA Military Spouse Fellow